Regular price
$49.95 AUD
Sale price
$39.95 AUD
Unit price
per
Sale
Sold out
Note: Surface needs to be primed/sealed before applying the Protective Top Coat.
Our UV Protective and Power Saving Top Coat is the ultimate solution for all your outdoor coating needs! This high-performance top coat is specially formulated to protect your surfaces from harmful UV rays while also reducing energy consumption.

Our top coat is made with advanced UV-absorbing technology that blocks out harmful UV rays, keeping your surfaces looking fresh and new for longer. It's perfect for use on outdoor surfaces such as roofs, decks and patios.
In addition to providing UV protection, our top coat is also designed to help save energy. Its advanced formula reflects the sun's rays, reducing the amount of heat absorbed by your surfaces and helping to lower your cooling costs.
Our top coat is easy to apply, and dries quickly to a durable finish. It's also resistant to chalking, fading and cracking, making it ideal for harsh outdoor environments. It's perfect for homeowners and contractors looking for a long-lasting and energy-efficient coating solution.
Before application, you need to ensure to apply a layer of Sealer / Primer on any surfaces including previously painted surfaces, or Rust Inhibitor Primer on any raw metal surfaces as well as over your cured Waterproof Sealant to promote adhesion for the application of the Thermal Coating.
Pair this Protective Top Coat with our Waterproof Sealant and create the ultimate dual-layer waterproofing membrane!

Popular Uses

– Concrete and unglazed terracotta roof tiles

– Metal roof surfaces, including Colorbond

– Concrete tilt slab buildings

– Fibro cement sheeting

– Cement rendered surfaces

– Brick and block construction

Step-by-Step

Please refer to the Specific Project for step-by-step instructions.

General Instruction

1. Best applied early morning or mid-afternoon in summer (avoid the intense sun when applying).

2. Because our products are water-based, you must avoid solvents like Petrols, thinners, diesel etc.

3. To avoid bubbling and non-curing, DO NOT apply products when there's dew, cold wind or rain forecasted within 24 hours.

4. Allow 24h curing time before applying the next coat.

5. Curing time depends on temperature, humidity and airflow. Best 20°C or more. The typical curing time is 3-7 days.
Coverage

At a recomended usage of 0.5L - 0.7/m2 the products will cover:

- 15L Bucket covers ≈ 30m2

- 10L Bucket covers ≈ 20m2

- 4L Bucket covers ≈ 8m2

- 2L Bucket covers ≈ 4m2

- 1L Bucket covers ≈ 2m2

- 0.5L Bucket covers ≈ 1m2
Safety Features

- Water-Based

- UV-stable

- Eco-friendly

- Safe for you, your family, pets and plants

-No solvents or VOC (volatile organic compounds)

- Non-flammable

- Usable indoors and outdoors
Clean-Up

The Top Coat and the Primer are cleaned with water and soap. 

Use our "RTT Sealant Cleaner" to remove any spillage, drips or splashes of the RTTSealant - Ultimate Seamless Waterproof Membrane".

Remove any masking tape while the products are still slightly wet.
Shipping




We ship our Products throughout Australia and New Zealand.  

FREE SHIPPING APPLIED TO ALL AUSTRALIAN ORDERS

SHIPPING TO NEW ZEALAND CAN BE ARRANGED AT EXTRA COST

Expected shipment duration (within AUS):  3-8 Business days (Mon -Fri)

For larger orders, please contact us at shop@rttsealant.com or use the Contact form.

At RTT Sealant, we offer FREE SHIPPING on all orders within Australia. We understand that getting your items to you quickly is important, so we make every effort to process and ship your order as soon as possible.

Orders are typically processed within 1-2 business days and shipped via Australian Post / Transdirect / Sendle. Once your order has shipped, you will receive a shipping confirmation email with a tracking number.

Please note that we are not responsible for any delays caused by the shipping carrier. If you have not received your order within the estimated delivery time, please contact us at [email or phone number] and we will do our best to assist you.

Return Policy

We want you to be completely satisfied with your purchase from RTT Sealant. If for any reason you are not satisfied, you may return your items within 30 days of receipt for a full refund or exchange.

To initiate a return, please contact us at shop@rttsealant.com or use the Contact form to request a return label. Once we receive your returned items, we will process your refund or exchange as soon as possible.

Please note that all items must be returned in their original condition.

We do not accept returns of final sale items.

We will be responsible for the cost of return shipping.

If you received a damaged or defective item, please contact us immediately at shop@rttsealant.com and we will do our best to assist you.

Thank you for choosing RTT Sealant for your shopping needs! If you have any questions about our shipping or return policy, please contact us. We're here to help!

Refunds

We strive to serve our customers with the best products. Every single product that you choose is thoroughly inspected, checked for defects and packaged with utmost care. We do this to ensure that you fall in love with our products.

Sadly, there are times when we may not have the product(s) that you choose in stock or may face some issues with our inventory and quality check. In such cases, we may have to cancel your order. You will be intimated about it in advance so that you don't have to worry unnecessarily about your order. If you have purchased via Online payment (not Cash on Delivery), then you will be refunded once our team confirms your request.

We carry out a thorough quality check before processing the ordered item. We take utmost care while packing the product. At the same time, we ensure that the packing is good such that the items won't get damaged during transit. Please note that RTT Sealant is not liable for damages that are caused to the items during transit or transportation.

We will revise your returned product as soon as we receive it and if it follows the guidelines addressed above, we will proceed to issue a refund of your purchase. Your refund may take a couple of days to process but you will be notified when you receive your money.

 

Your Consent

By using our website, registering an account, or making a purchase, you hereby consent to our Return & Refund Policy and agree to its terms.

 

Contact Us

If, for any reason, You are not completely satisfied with any good or service that we provide, don't hesitate to contact us and we will discuss any of the issues you are going through with our product.

 
Share
View full details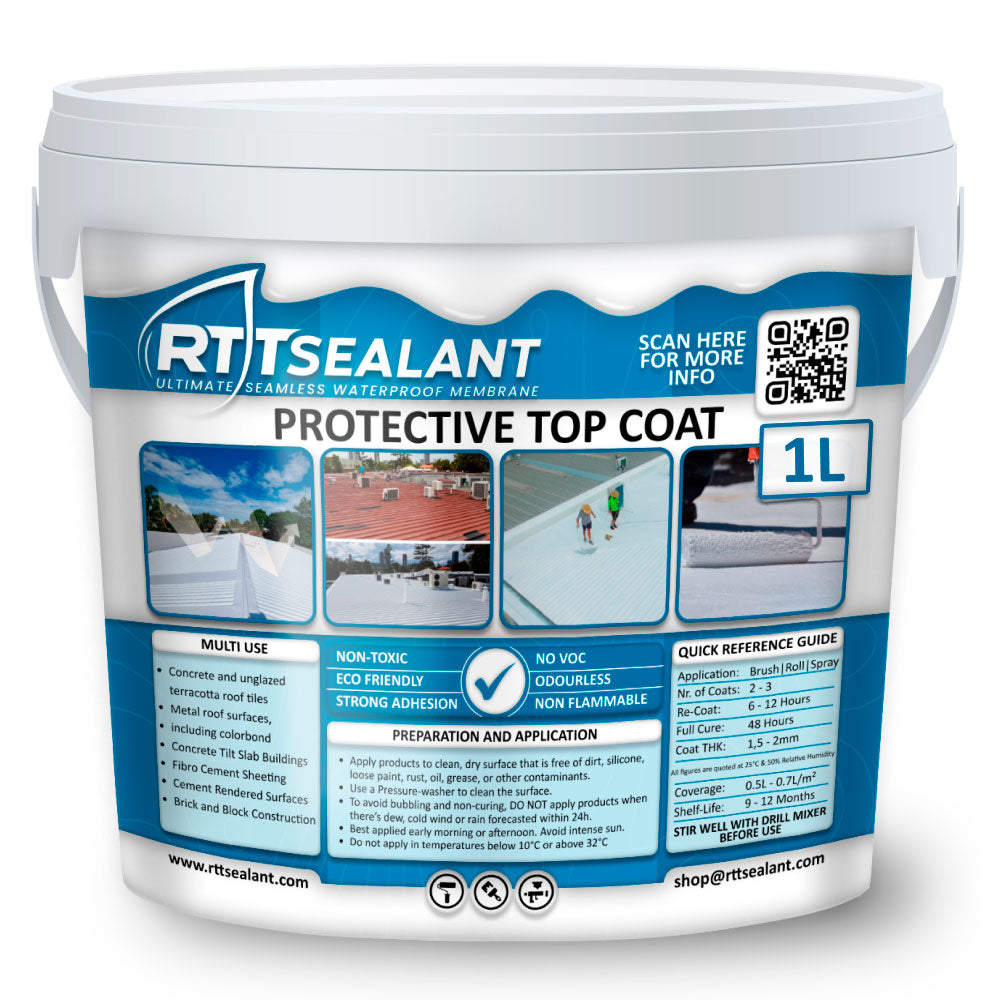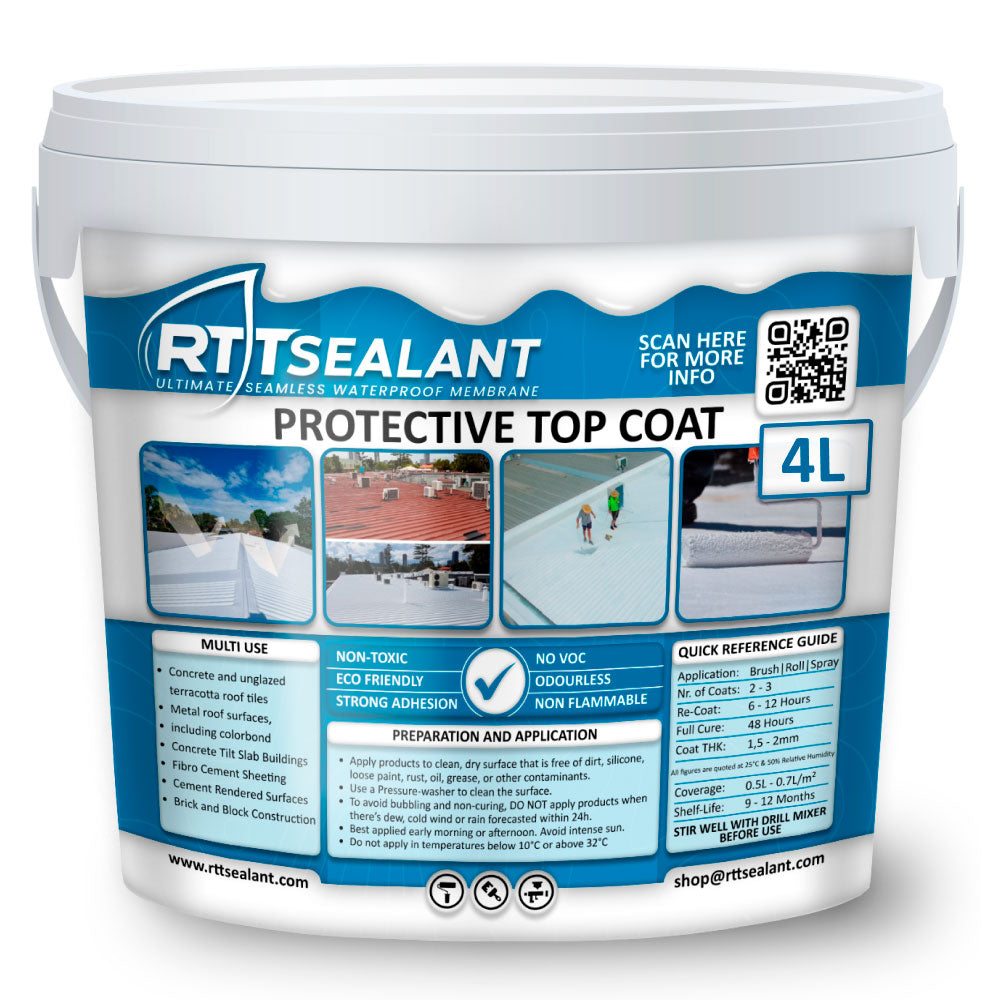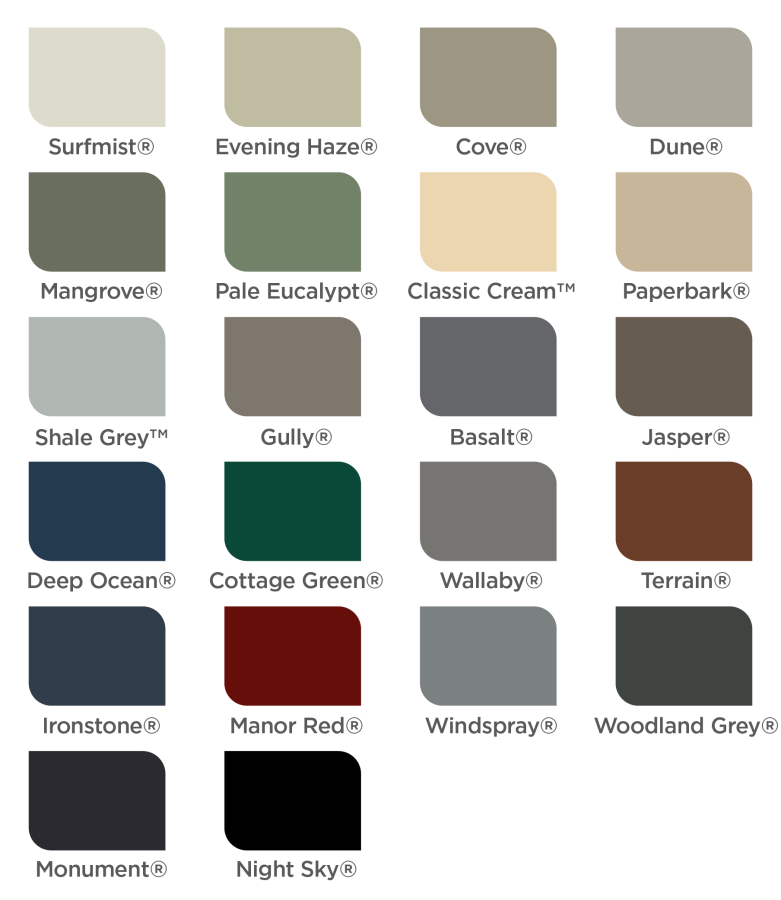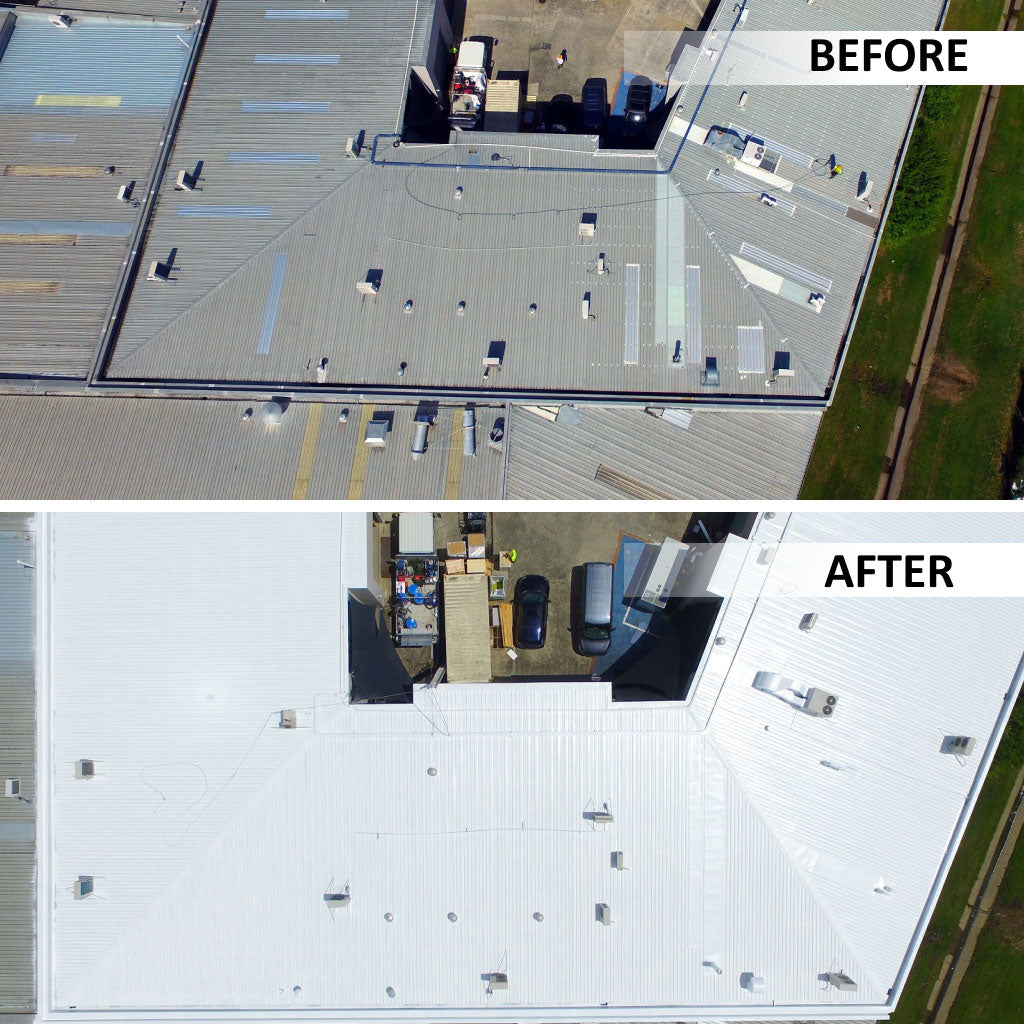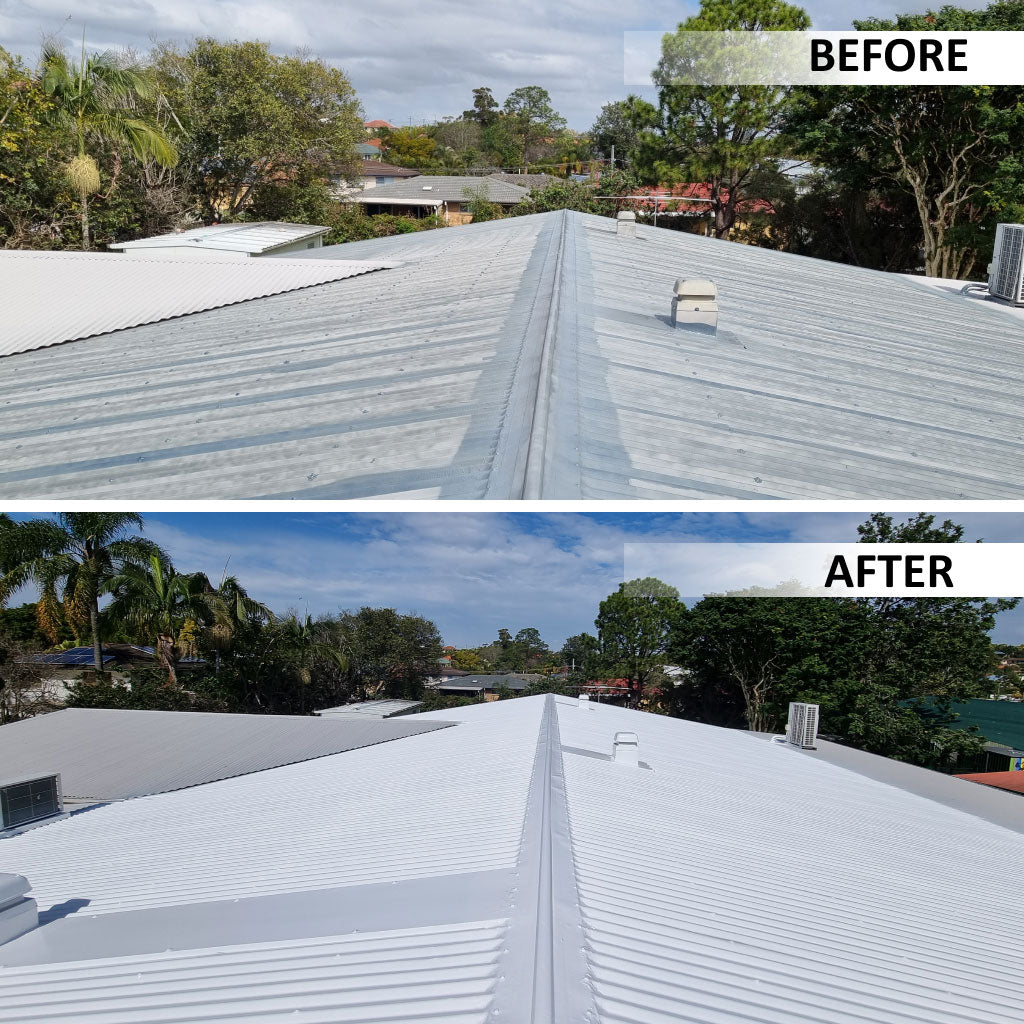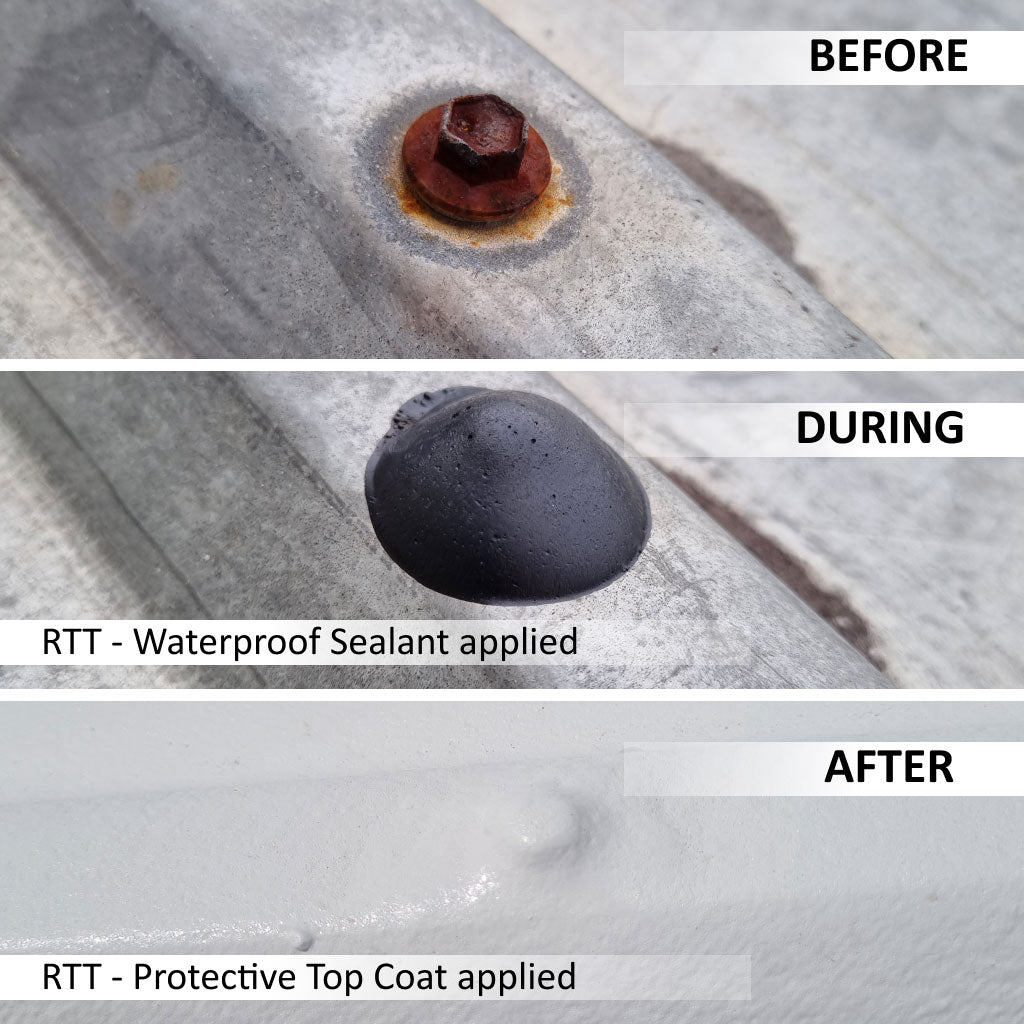 Top coat
I have not finished yet but I am hoping it will be extremely affective
My shed roof is saved!
I highly recommend the UV protective top coat that I recently used. I had been considering replacing my shed roof due to age and condition, but after applying the top coat, I'm confident that I won't need to for at least 10 years.
Not only did the top coat help to reduced the temperature in my shed, but it also provided excellent UV protection, which is important for maintaining the integrity of the roof. The application process was straightforward, and I was able to do it myself with no problems.
Overall, I'm very happy with the results and would highly recommend this product to anyone looking to protect their roof and save money in the long run.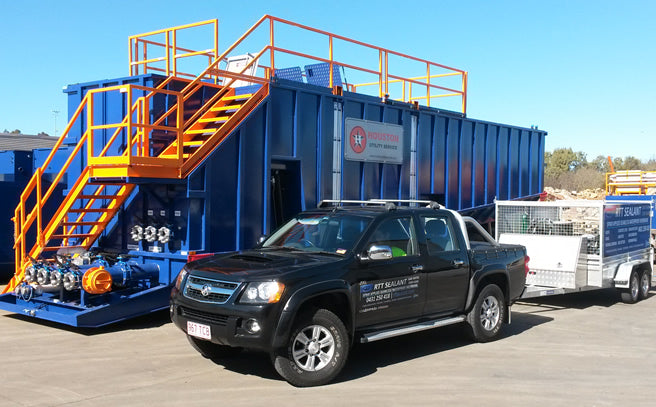 DIY is not an option for you?
We work with accredited contractors and take on large commercial projects.

Contact us on info@rttsealant.com or use the Contact form and let's discuss your project!
WE PROVIDE FREE SHIPPING ON ALL ORDERS

Hassle-Free Exchanges

Not happy with the product or received the wrong product? No worries. Contact us at shop@rttsealant.com and we will do our best to find the best solution for you.

With us you have a 100% Satisfaction guarantee!